Shares in emerging markets led a broad rally in global shares last week, based on a set of exchange traded funds representing the major asset classes through Friday's close (Jan. 22). The week's losses were concentrated in foreign bonds and commodities.
Vanguard FTSE Emerging Markets (VWO) rallied 2.9% last week, marking the ETF's fourth consecutive weekly advance. After closing at a record high on Thursday, the fund pulled back on Friday.
The recent rally for this slice of global equities appears overdone at the moment, according to Bloomberg's Fear-Greed indicator for the MSCI developing-nation stock gauge, which is at its highest level in nearly a decade. The index measures selling strength versus buying strength.
Despite the strong run for emerging markets lately, Jeremy Schwartz, global head of research at WisdomTree Asset Management, predicts that "there could be a long way to go" for these stocks. He tells CNBC that shares in emerging markets "now have some of the best growth opportunities" thanks to relatively big discounts. He reasoned that with the recent weakness in the US dollar and possibly more trade-friendly Biden administration in power, prospects for emerging markets stocks look encouraging.
Last week's big loser: a broadly defined, equally weighted set of commodities. WisdomTree Continuous Commodity (GCC) fell 0.6%, the ETF's first weekly decline since the end of November.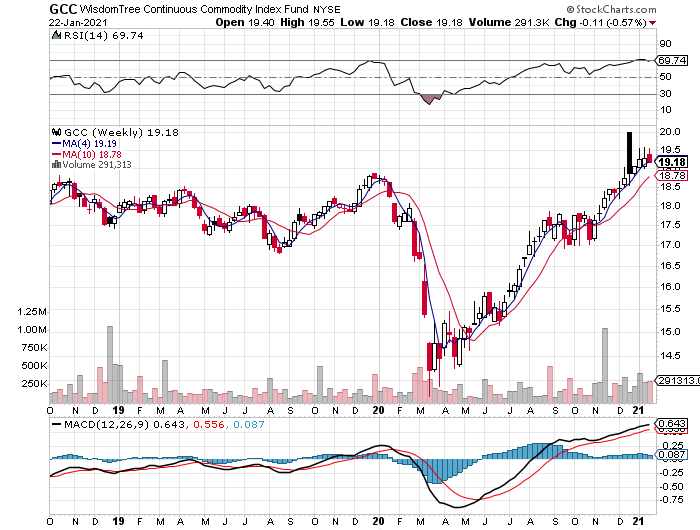 The Global Markets Index (GMI.F) rebounded last week after slipping previously. This unmanaged benchmark, which holds all the major asset classes (except cash) in market-value weights via ETF proxies, rose 1.3% over the trading week through Friday.
After last week's rally, emerging markets stocks (VWO) are now the top one-year performer for our proxies of the major asset classes. Pulling ahead of US shares, which previously held the lead for this time window, VWO closed with a 22.6% total return over the past 12 months. That's slightly ahead of the 21.3% one-year rise for US shares via Vanguard Total US Stock Market (VTI).
US and foreign property shares continue to post the only losses for the trailing one-year period. Vanguard US Real Estate (VNQ) and its offshore counterpart (VNQI) are down 6.0% and 7.6%, respectively, vs. their year-ago levels after factoring in distributions.
GMI.F is currently posting a strong 15.2% gain for the past year.
Most of the major asset classes continue to post near-zero drawdowns. The downside outliers: foreign property shares (VNQI), government bonds in emerging markets (EMLC), US REITs (VNQ) and the biggest drawdown at the moment: broadly defined commodities (GCC), which is nearly 40% below its previous peak.
GMI.F's current drawdown is currently a mild -0.3%.
---
Learn To Use R For Portfolio Analysis
Quantitative Investment Portfolio Analytics In R:
An Introduction To R For Modeling Portfolio Risk and Return

By James Picerno
---