The budget talks in Washington are suffering from "gridlock" and so the risk of default still lurks. Meanwhile, the crisis facing the euro remains an evolving situation. But asset markets around the world don't appear worried, at least as of Friday's close. As our review below of ETF proxies for the major asset classes shows, buyers have had the upper hand recently. That's a bit unnerving. Even in the best of times, a broad sweep higher in everything suggests there's a correction brewing somewhere. That certainly looks like the case for U.S. stocks this morning: futures are reportedly "set to drop." Meanwhile, here's how the major asset classes stack up via representative ETFs through July 22…

US STOCKS • Vanguard Total Market (VTI) • Benchmark: MSCI US Broad Market Index
US stocks climb a wall of worry… again.

FOREIGN DEVELOPED MARKET STOCKS • Vanguard Europe Pacific (VEA) • Benchmark: MSCI EAFE
Foreign developed market equities also pull another rally out of the hat…

EMERGING MARKET STOCKS • Vanguard Emerging Markets (VWO) • Benchmark: MSCI Emerging Market
And just when it looks like emerging market stocks are poised to succumb, buyers ride to the rescue once more…

US BONDS • Vanguard Total Bond Market (BND) • Benchmark: Barclays US Aggregate
Have US bond prices hit a ceiling?

INFLATION-INDEXED US TREASURIES • iShares Barclays TIPS Bond (TIP) • Benchmark: Barclays US TIPS
TIPS: the gift that keeps on giving on the expectation of higher inflation …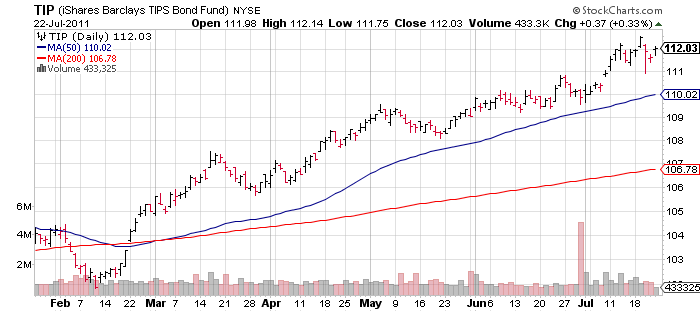 HIGH YIELD BONDS • SPDR Barclays High Yield Bond (JNK) • Benchmark: Barclays High Yield Very Liquid
Is the third attempt at breaking to new highs the charm?

COMMODITIES • iPath Dow Jones-UBS Commodity (DJP) • Benchmark: DJ-UBS Commodity
Commodities bulls look tired…

REAL ESTATE INVESTMENT TRUSTS • Vanguard REIT (VNQ) • Benchmark: MSCI US REIT
Up, up and away for REITs…

FOREIGN DEVELOPED MARKET GOVERNMENT BONDS • SPDR Barclays Int'l Treasury (BWX) •
Benchmark: Barclays Global Treasury ex-US Capped
Is there a new rally brewing?

EMERGING MARKET GOVERNMENT BONDS • Van Eck Market Vectors Emg Mkt Local Currency Bond (EMLC) •
Benchmark: J.P. Morgan GBI-EMG Core
Emerging market bonds continue to hold up as an alternative to developed-market "safety."

FOREIGN GOVERNMENT INFLATION-LINKED BONDS • SPDR DB International Inflation-Protected Bond (WIP) •
Benchmark: DB Global Government ex-US Inflation-Linked Bond Capped
Worries of future inflation around the world keep inflation-indexed bonds bubbling…

FOREIGN CORPORATE BONDS • PowerShares International Corporate Bond (PICB) •
Benchmark: S&P International Corporate Bond
Are investors having second thoughts about foreign corporate bonds?



Charts courtesy of StockCharts.com