It was hard to lose money last week as global markets rose across the board for trading through April 16, based on a set of exchange traded funds. Led by foreign and US real estate shares, all the major asset classes advanced over the previous week's closing prices.
Property shares ex-US led the party via Vanguard Global ex-U.S. Real Estate (VNQI), which rose a hefty 2.6% – the fund's best weekly increase since November. At the close of trading on Friday, the ETF was on the cusp of recovering all its 2020 pandemic losses.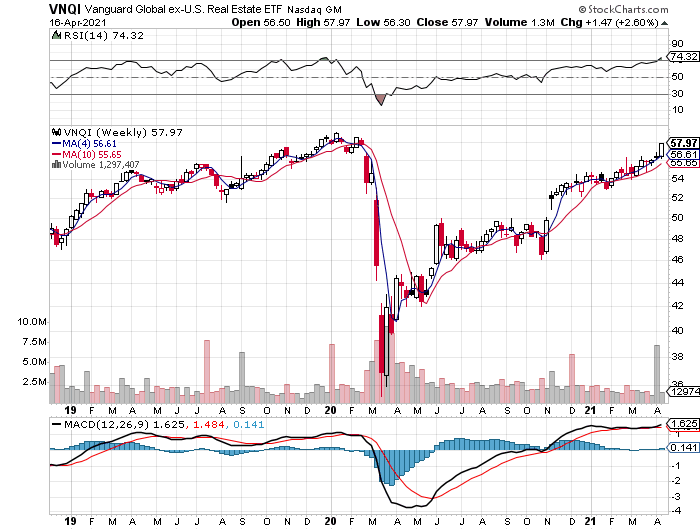 A close second-place winner last week: US real estate investment trusts. Vanguard US Real Estate (VNQ) jumped 2.5%, lifting the ETF to a new record high.
The weakest performer last week: junk bonds. In the US and foreign markets, high-yield fixed income securities were the lagging performers. SPDR Bloomberg Barclays US High Yield Bond (JNK) and VanEck Vectors International High Yield Bond (IHY) each rose 0.1% in the week just passed.
By some accounts, a cautious outlook is warranted for high-yield bonds in the wake of a dwindling spread for these securities relative to Treasuries. The current yield premium is a relatively light 3%-plus, according to ICE BofA US High Yield Index Option-Adjusted Spread — near the lowest level in 14 years.
Nonetheless, some analysts argue that high yield bonds remain attractive, partly due to low default rates. "Default rates have fallen a lot and companies have refinanced their debt at lower rates and if we get the expected rebound in profits, high yield can hold up into next year," predicts Adrian Miller, chief market strategist at Concise Capital, a small-company-debt specialist.
Last week's rally in everything kept the Global Markets Index (GMI.F) on a bullish track. This unmanaged benchmark, which holds all the major asset classes (except cash) in market-value weights via ETF proxies, rose 1.2% — the fourth straight weekly advance for GMI.F, which is maintained by CapitalSpectator.com.
For the one-year trend, US stocks continue to lead the field. the top performer for the major asset classes for this time window too. Vanguard Total US Stock Market (VTI) is up 58.5% on a total return basis over the past 12 months. That's slightly ahead of the one-year gain for Vanguard FTSE Developed Markets Index Fund (VEA), the second-best one-year performer.
Note that one-year returns for some corners of the global markets are unusually high at the moment because year-ago prices were dramatically depressed due to the coronavirus crash. Accordingly, trailing one-year results will remain temporarily elevated due to extreme year-over-year comparisons until last year's markets collapse washes out of the annual comparisons.
All but one of the major asset classes are posting one-year gains at the moment. The lone holdout: investment-grade US bonds via Vanguard Total Bond Market (BND), which is down 0.6% over the past 12 months on a total return basis.
GMI.F is currently posting a 39.5% rise for the past year.
---
Learn To Use R For Portfolio Analysis
Quantitative Investment Portfolio Analytics In R:
An Introduction To R For Modeling Portfolio Risk and Return

By James Picerno
---