Nearly every slice of the major asset classes recovered last week from the previous week's correction, based on a set of exchange traded funds through Friday's close (June 25). The main exception: US investment-grade bonds.
Vanguard Total US Bond Market (BND) was the only loser last week for the primary set of global market betas. The fund dropped 0.4%, marking the first weekly setback in six weeks.
Weighing on US bonds: fresh concerns that the Federal Reserve may be forced to raise interest rates sooner than expected to combat higher inflation. A key economic report that may influence the outlook this week: the government's payrolls report for June, scheduled for Friday, July 2.
"Depending on the outcome of the payroll's data, the market could start pricing in more chances of a rate hike next year," says Yukio Ishizuki, senior currency strategist at Daiwa Securities.
The rest of the field posted gains last week. The leader: US stocks via Vanguard Total US Stock Market (VTI), which rallied 3.0%. The ETF ended trading at a new record high.
An ETF-based version of the Global Market Index (GMI.F) rose 2.0%, recovering most of the previous week's loss. This unmanaged benchmark holds all the major asset classes (except cash) in market-value weights via ETF proxies.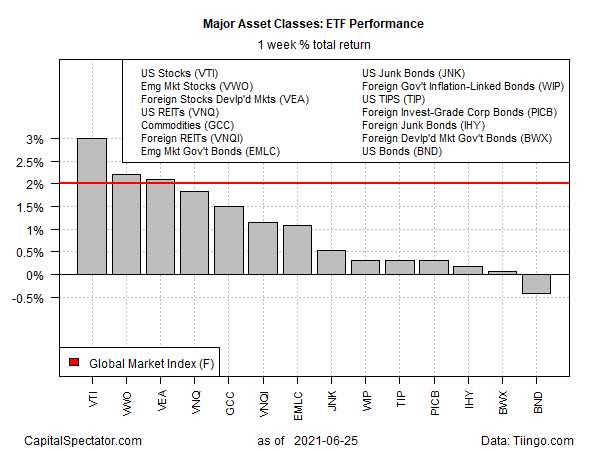 US stocks continue to hold the top spot for the one-year return too. VTI is up 45.1% for the trailing 12-month window through Friday's close.
Meanwhile, US bonds (BND) are in last place for the trailing one-year period, posting a modest 0.6% loss even after factoring in distributions.
Reviewing the major asset classes via current drawdown shows that most of the ETFs currently enjoy peak-to-trough declines of less than -5%. Two of those funds ended last week at record highs (zero drawdown): US stocks (VTI) and US junk bonds (JNK).
---
Learn To Use R For Portfolio Analysis
Quantitative Investment Portfolio Analytics In R:
An Introduction To R For Modeling Portfolio Risk and Return

By James Picerno
---