Early clues about February's economic activity via several regional Federal Reserve banks suggest that growth prevails. Month to date, four regional banks have released manufacturing activity updates for February and in all four cases the numbers show improvement. That suggests that the rest of this week's economic news on manufacturing will bring more statistical encouragement. Later today, the Richmond Fed will release its update of manufacturing activity and the January summary of durable goods orders for the U.S. arrives. Tomorrow we'll learn the latest for the ISM-Chicago Business Barometer and on Thursday the ISM Manufacturing Index for February hits the streets, offering the first broad look at the U.S. activity for the month. Meantime, the four regional Fed surveys available at the moment suggest that February overall is shaping up to be another month for expansion. Here's a brief look at each of the four regional Fed reports released so far based on the accompanying press releases:

Empire State Manufacturing Survey (New York):
The February Empire State Manufacturing Survey indicates that manufacturing activity in New York State expanded for a third consecutive month. The general business conditions index rose six points to 19.5, its highest level in more than a year. The new orders index, at 9.7, was positive but down slightly, and the shipments index was little changed at 22.8. The prices paid index held steady at 25.9, while the prices received index fell eight points to 15.3, suggesting that selling prices rose at a slower pace. Employment indexes were positive and close to last month's levels, indicating that employment levels and the average workweek continued to rise at a modest pace. Indexes for the six month outlook, while somewhat lower than last month, remained at fairly high levels, signaling considerable optimism about the future.


Philadelphia Fed Survey
Responses from manufacturing firms polled for this month's Business Outlook Survey suggest that regional manufacturing activity continued to expand in February. The survey's broad indicators for general activity, new orders, and shipments all increased from their readings in January. Firms reported near‐steady employment levels but an increase in average work hours. More firms reported higher input prices this month, and a sizable share of firms reported price increases for their own manufactured goods. The survey's broad indicators of future activity fell from levels in recent months but continue to reflect optimism about future manufacturing growth.


Kansas City Fed Manufacturing Index
The Federal Reserve Bank of Kansas City released the February Manufacturing Survey today. According to Chad Wilkerson, vice president and economist at the Federal Reserve Bank of Kansas City, the survey revealed that Tenth District manufacturing activity increased further in February, and expectations also climbed higher. "Factories further ramped up activity in February and – despite a drop off in export orders – were more optimistic about future output and hiring than at any time in the past year," said Wilkerson.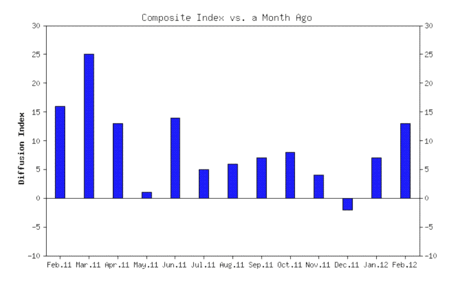 Dallas Fed Manufacturing Survey
Texas factory activity continued to increase in February, according to business executives responding to the Texas Manufacturing Outlook Survey. The production index, a key measure of state manufacturing conditions, rose from 5.8 to 11.2, suggesting a pickup in the pace of growth. Other measures of current manufacturing conditions also indicated expansion in February. The new orders index was positive for a second month in a row but fell from 9.5 to 5.8. Similarly, the shipments index moved down from 6.1 to 4.2. Capacity utilization increased further in February; the index edged up from 8.5 to 10.