The year began with a thud for most of the major asset classes, based on total returns for a set of proxy ETFs. Investment-grade US bonds edged higher in the first five trading days through Jan. 8. Thanks in part to a slightly weaker dollar last week, foreign government bonds in developed markets and foreign junk advanced slightly as well. But the red ink was otherwise dominant.

The big loser last week: emerging market equities (VWO), which tumbled more than 8%. Heightened worries about China's slowing economy is a factor that continues to reverberate with negative implications for the global marketplace. With a nod to the potential spillover effects, the setback in the kickoff to 2016 was nearly as deep for foreign stocks in developed markets, which shed more than 6%.
Nonetheless, the World Bank last week projected that global economic growth will improve to 2.9% this year from 2.4% in 2015 "as advanced economies gain speed." But the "anemic recovery" in emerging markets will remain a headwind, the bank advised. "Spillovers from major emerging markets will constrain growth in developing countries and pose a threat to hard-won gains in raising people out of poverty."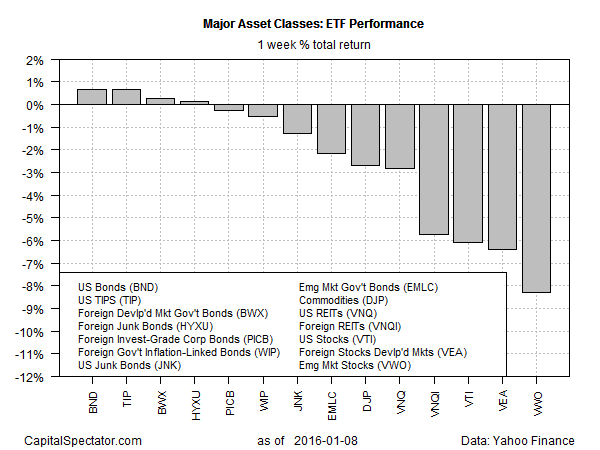 Meanwhile, commodities–along with emerging markets (stock and bonds)–continue to lead the field lower for the trailing one-year return through last Friday. Broadly defined commodities (DJP) are off nearly 30—dead last among the major asset classes.
The big question for the week ahead: Is the bearish start for 2016 an omen for the weeks and months to come? We're off to a discouraging start today with news of Monday's renewed tumble in Chinese markets.