* Global manufacturing activity continues to contract modestly in June
* US preparing limits on Chinese firms' access to US cloud-computing services
* China's export controls on metals used in semiconductors is "just a start"
* Rate hikes aren't fully taming inflation, at least not yet
* Oil prices stall despite OPEC's extension of production cuts
* Eurozone economy "grinds to a halt" in June: PMI survey data
* China economic growth eases to slowest pace since January via PMI survey data
* US manufacturing slump deepens in June via ISM Manufacturing Index:
The riskiest tranche of US corporate bonds is outperforming its safer counterparts this year. "This dash for trash makes some sense," reports The Wall Street Journal. "The big macroeconomic surprise of this year: The US economy has been strong even as inflation has moderated.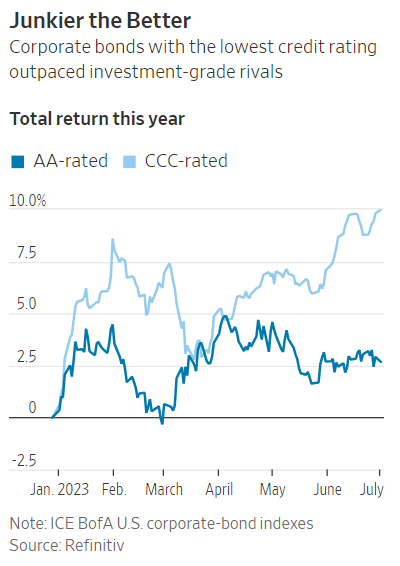 The weakest borrowers benefited because the most-widely-forecast recession in history simply refused to arrive. The creditworthy didn't gain much because the Federal Reserve will keep rates higher for longer as a result. In investment-management-speak, credit risk has done well, while interest-rate risk has done badly."