* Johnson survives vote of confidence and remains UK prime minister
* Taiwan prepares for a possible invasion from China
* Treasury Sec. Yellen faces tough questions on inflation in Congress this week
* Global growth remains weak but was slightly stronger in May
* China services-sector business activity "continues to fall markedly in May"
* Rising interest rates are taking a toll on commercial properety sales
* World has passed 'peak agricultural land'
* Germany manufacutring orders fall for third month in April
* US 10yr Treasury yield rebounds, rising above 3% again:
Trio of supply-side indicators suggest the surge in global inflation is peaking. "While inflation in some parts of the world are yet to peak, there are at least some signs emerging that we may not be too far off in terms of a turning point at which we start to see the annual inflation rate start to head lower," says Khoon Goh, head of Asia research at Australia & New Zealand Banking Group.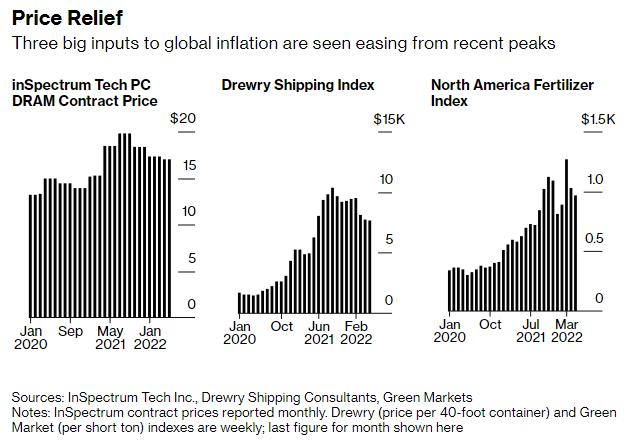 Will rate hikes inevitably bring recession? Not necessarily, advises Capital Economics. "A new Capital Economics research series examines the potential economic and market implications of higher interest rates to show how – while acknowledging very real downside risks – the outlook may not be as gloomy as more hysterical headlines suggest." David Wilder at the consultancy explains: "Jennifer McKeown, who heads our Global Economics service, and Senior Global Economist Simon MacAdam, reviewed all 81 G7 tightening cycles since 1960 and found that, until rates were increased by 400 basis points or more, recession generally didn't follow." The authors reports that governments, firms and households may be more resilient to higher rates this time, in part due to a lengthening of debt maturities that reduces sensitivity to changes in market rates. "Higher rates will mainly weigh on new credit demand, causing growth in interest-rate-sensitive spending to slow," say McKeown and MacAdam.
If there was a peace dividend from the end of the Cold War, the war in Ukraine killed it as military spending ramps up. "Now, whoomph, we are suddenly in a new era that is the opposite of globalisation, where statecraft and security concerns trump free markets and economics," says Nigel Gould-Davies, senior fellow at the International Institute for Strategic Studies.