US stocks continued to rebound in 2019, generating the strongest performance for the major asset classes in February. Foreign stocks, high yield bonds and US real estate investment trusts (REITs) also rose while investment-grade bonds in the US and abroad slumped.

Equities in the US were the clear winner last month. The Russell 3000 Index increased 3.5%, marking the second straight monthly advance in 2019. Year to date, US equities are ahead by a sizzling 12.4%.
Last month's biggest loser for the major asset classes: foreign government bonds in developed markets. The FTSE Russell World Government Bond Index shed 1.3%, the first monthly loss for the benchmark since last October.
The Global Market Index (GMI) posted a healthy 2.0% gain last month. This unmanaged benchmark that holds all the major asset classes in market-value weights is now showing an impressive year-to-date increase of 8.0%.
For the trailing one-year period, US stocks and bonds (along with GMI) are all posting positive results.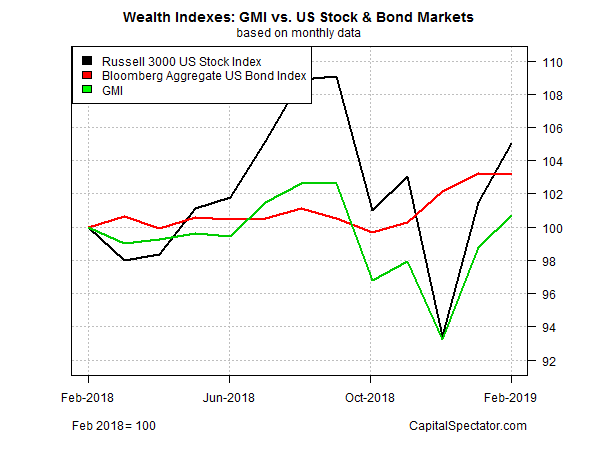 ---
Learn To Use R For Portfolio Analysis
Quantitative Investment Portfolio Analytics In R:
An Introduction To R For Modeling Portfolio Risk and Return

By James Picerno
---