October was a month of renewal. After sharp losses virtually across the board in September, last month witnessed a healthy dose of the opposite. But in a sign of the times, the last day of October suffered a heavy bout of selling in risky assets amid new fears that the crisis in Europe rolls on. The red ink is spilling anew this morning as I write. For a brief, shining moment, however, it looked like there was a light at the end of the tunnel. But last month is suddenly so yesterday.

As for October, the numbers were certainly encouraging, with REITs leading the way on a 14.4% surge—the best month for the MSCI REIT Index since April 2009. There was no shortage of potent gains elsewhere. U.S. stocks (Russell 3000), for instance, soared 11.5%, delivering the best monthly return since 1987. Surprised? The rebound in stocks shouldn't come as a total shock. As I noted in the September review of asset class returns, equities had been down for five months straight at that point and there was only minimal precedent for six consecutive months of losses.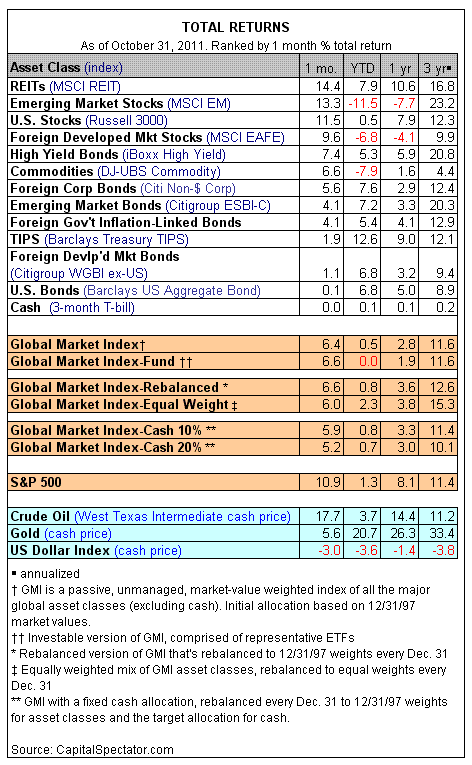 But ours is still a world struggling with debt and sluggish growth and so no one has much confidence that yesterday is a prelude to tomorrow. Volatility seems to be the only constant for the moment. In short, more of the same. October's stellar returns are already old news. It's anyone's guess what November will bring. Of course, we'll always have Paris (and October 2011).