US real estate investment trusts (REITs) surged last week, posting the biggest gain by far for the major asset classes, based on a set of exchange-traded products. The increase marks the first weekly advance for these securities overall since late-March.

Vanguard Real Estate Index Fund (VNQ) popped 3.2% for the five trading days through Friday, April 27. The ETF's rally lifted the fund to its highest close since February 1.
Last week's sharp gain in yield-sensitive REITs is surprising at a time when Treasury yields are marking new multi-year highs. The benchmark 10-year yield briefly topped 3.0% for the first time in four years last week before pulling back. The firmer competition from higher rates suggests that REITs will be on the defensive. But "stronger-than-expected earnings across much of the sector" was a contributing factor in the REIT rally, advises Hoya Capital Real Estate, a research boutique that focuses on property shares.
---
When will the next recession strike? Monitor the outlook with a subscription to:
The US Business Cycle Risk Report
---
Despite the strong bounce in REITs, most of the major asset classes fell last week. The biggest loss was posted in bonds in emerging markets. VanEck Vectors J.P. Morgan EM Local Currency Bond (EMLC) fell 1.7% — the ETF's fourth straight weekly decline, which left the fund close to its lowest close so far in 2018.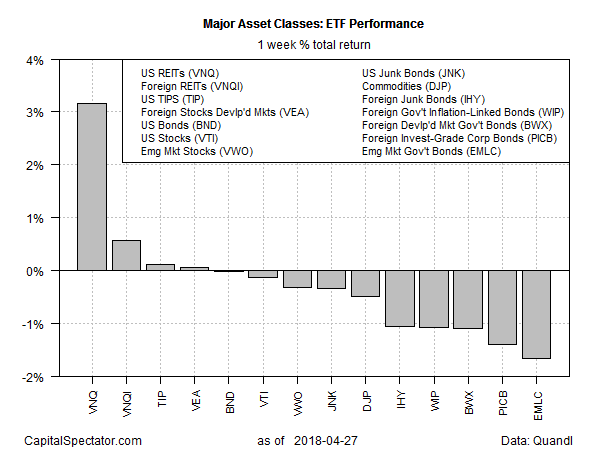 For the one-year trend, equities in emerging markets continue to hold the top spot. Vanguard Emerging Markets Stock (VWO) is up 17.3% on a total-return basis, slightly ahead of the second-strongest performer for the one-year window: global real estate via Vanguard Global ex-US Real Estate (VNQI).
The biggest one-year loss can be found in US real estate. Despite last week's strong rally, VNQ was off a relatively steep 7.1% at Friday's close vs. the year-earlier price after adjusting for payouts from the fund.
Monitoring the major asset classes in terms of drawdown reveals that broadly defined commodities are still nursing the biggest peak-to-trough slide at the moment. Current drawdown exceeds 40% for the iPath Bloomberg Commodity Index Total Return (DJP), far deeper compared with the rest of the field.
The smallest drawdown at the moment is in US high-yield bonds. SPDR Bloomberg Barclays High Yield Bond (JNK) on Friday closed at just 1.9% below its previous peak.