Inflation-indexed Treasuries and commodities were the top performers last week for the major asset classes, based on set of exchange traded funds.
The iShares TIPS Bond ETF (TIP) rallied for a fourth straight week, gaining 0.8% over the five trading days through Friday, July 16. The gain lifted the fund to a record high.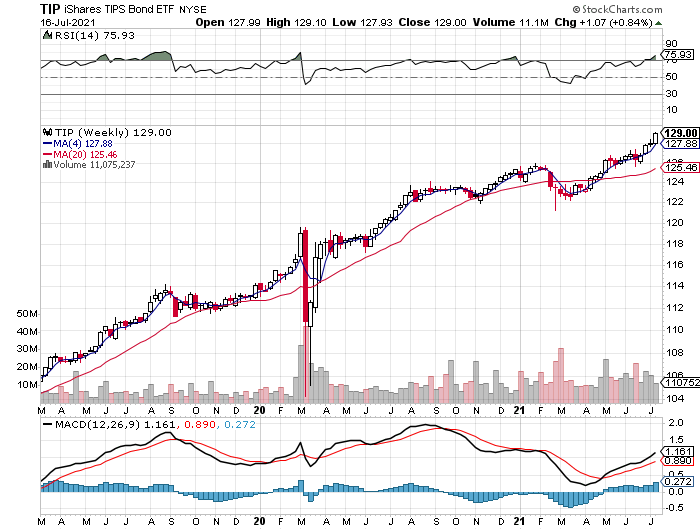 A close runner-up last week: broadly defined commodities. WisdomTree Continuous Commodity Index Fund (GCC), an equal-weighted portfolio, rose 0.6%.
The biggest losses last week: US and foreign developed-market stocks, exceeded only by foreign real estate: Vanguard Global ex-U.S. Real Estate ETF (VNQI) slumped 1.8%.
Looking at all the major asset classes in one portfolio, an ETF-based version of the Global Market Index (GMI.F) took a hit last week, falling 1.1%. This unmanaged benchmark (maintained by CapitalSpectator.com) holds all the major asset classes (except cash) in market-value weights via ETF proxies.
For trailing one-year return, US real estate investment trusts (REITs) edged into the lead over US stocks. Vanguard US Real Estate (VNQ) is ahead by 40.6% on a total return basis over the past 12 months. That's slightly ahead of Vanguard Total US Stock Market (VTI), which is up 38.8% for the past year.
US bonds (BND) remain the worst one-year performer for the major asset classes.  Vanguard Total US Bond Market (BND) is down 0.6% for the trailing one-year window.
Ranking the major asset classes via current drawdown shows that most of our proxy ETFs currently enjoy peak-to-trough declines of no more than -5%. US inflation-indexed government bonds (TIPS) are the leader on this front via a 0% peak-to-trough decline as of Friday's close. The main outlier: commodities (GCC), which currently posts a drawdown of -30%-plus.
---
Learn To Use R For Portfolio Analysis
Quantitative Investment Portfolio Analytics In R:
An Introduction To R For Modeling Portfolio Risk and Return

By James Picerno
---