The global economy may be struggling, but bullish sentiment in the capital and commodity markets prevails. All the major asset classes via our list of ETF proxies are sitting on tidy gains over the last several weeks. Ditto for the year so far through September 21. Red ink, in other words, is nowhere in sight these days.

Momentum has the upper hand in nearly every corner, for now. Can it roll on? Yes, of course. But reversion to the mean has a habit of stealing momentum's thunder at times, and vice versa. How can we recognize when one is giving way to the other? Watching prices in relation to moving averages is one approach. But market action alone isn't everything. And there's that old problem of human error. The great challenge in financial and macro analysis is calling turning points in real time.
How to hedge this risk? If your asset allocation has dramatically changed this year, it's probably time to rebalance, if only modestly. No one likes to trim the winners and redeploy capital to the relative laggards, but history suggests a bit of contrarianism on the asset class level is the foundation for earning decent and probably above-average risk-adjusted performance through time. Alas, bucking the crowd almost always looks like a dog in the here and now. No wonder that only a minority of investors are able to take advantage of what some call the rebalancing bonus.


US STOCKS • Vanguard Total Market (VTI) • Benchmark: MSCI US Broad Market Index

FOREIGN DEVELOPED MARKET STOCKS • Vanguard Europe Pacific (VEA) • Benchmark: MSCI EAFE

EMERGING MARKET STOCKS • Vanguard Emerging Markets (VWO) • Benchmark: MSCI Emerging Market

US BONDS • Vanguard Total Bond Market (BND) • Benchmark: Barclays US Aggregate

INFLATION-INDEXED US TREASURIES • iShares Barclays TIPS Bond (TIP) • Benchmark: Barclays US TIPS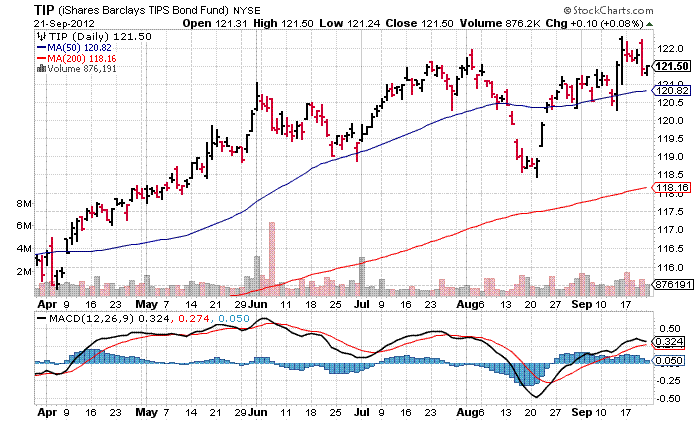 HIGH YIELD BONDS • SPDR Barclays High Yield Bond (JNK) • Benchmark: Barclays High Yield Very Liquid

COMMODITIES • iPath Dow Jones-UBS Commodity (DJP) • Benchmark: DJ-UBS Commodity

REAL ESTATE INVESTMENT TRUSTS • Vanguard REIT (VNQ) • Benchmark: MSCI US REIT

FOREIGN DEVELOPED MARKET GOVERNMENT BONDS • SPDR Barclays Int'l Treasury (BWX) •
Benchmark: Barclays Global Treasury ex-US Capped

EMERGING MARKET GOVERNMENT BONDS • Van Eck Market Vectors Emg Mkt Local Currency Bond (EMLC) •
Benchmark: J.P. Morgan GBI-EMG Core

FOREIGN GOVERNMENT INFLATION-LINKED BONDS • SPDR DB International Inflation-Protected Bond (WIP) •
Benchmark: DB Global Government ex-US Inflation-Linked Bond Capped

FOREIGN CORPORATE BONDS • PowerShares International Corporate Bond (PICB) •
Benchmark: S&P International Corporate Bond



Charts courtesy of StockCharts.com