Initial jobless claims dropped to another four-year low last week, the Labor Department reports. That's another sign that the labor market is likely to continue expanding, perhaps at a moderately faster rate than we've seen in recent months. New filings dropped 5,000 to a seasonally adjusted 359,000 for the week ending March 24. (Today's update reflects an annual data revision going back to 2007 and so the latest numbers don't correspond with last week's report.)

"The labor market is still improving at a modest pace," says Russell Price, senior economist at Ameriprise Financial, via Bloomberg. "Across almost all sectors, companies have shed as many workers as they possibly can. Now, they're responding to the modest improvements in demand."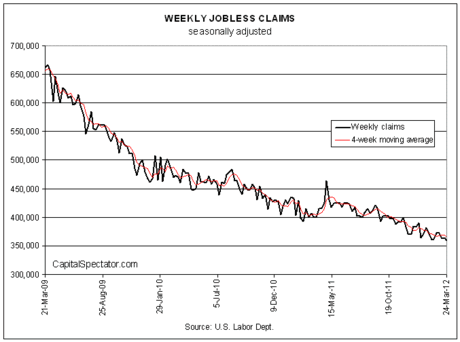 Price's analysis is based on more than wishful thinking. Private non-farm payrolls have increased by 752,000 for the three months through February. That the highest three-month jump in nearly a year (the February-April 2011 gain was slightly higher at 782,000).
Robust job growth is needed to help offset the recent slowing of income growth, which represents a potential risk for the economy. If the labor market expands at a faster pace, there's a chance that the deceleration in personal income growth could stabilize or even turn higher.
A bit of slightly brighter news on that front: today's third and final update of 2011's fourth-quarter GDP shows that household income grew at a faster pace than previous reported. Reuters brings us the details:
The Commerce Department said on Thursday personal income increased to a seasonally adjusted annual rate of $13.162 trillion, $3.3 billion more than reported last month, likely reflecting the strengthening labor market.
Growth in disposable income was $10.6 billion more than previously estimated.
While the government's final estimate left gross domestic product growth at an unrevised 3.0 percent pace last quarter, when measured from the income side, output increased at a 4.4 percent rate.
That was the fastest rise in gross domestic income since the first quarter of 2010 and followed a 2.6 percent rise in the third quarter.
"The data paints a clear picture of an economy that built momentum throughout the course of the year, closing on a high note," said Jim Baird, chief investment strategist for Plante Moran Financial Advisors in Kalamazoo, Michigan.
Is this a good sign for tomorrow's report on personal income and spending for February? The consensus forecast among economists expects a slight improvement with a 0.4% monthly rise vs. 0.3% in January, according to Econoday data.
The wild card remains gasoline prices, which continue to march higher. A gallon of regular gas rose to a national average of $3.918 last week—the highest since last May, according to the U.S. Energy Information Administration. Is this a problem for the economic recovery? Will this dark trend bring a negative surprise in tomorrow's income and spending report? It wouldn't be the first time that energy prices spoiled the party.
"For goodness' sake, it's only March, and this is the earliest point in the year that pump prices have soared to this price level," observes John B. Townsend II, a spokesman for AAA Mid-Atlantic.
Surprisingly, there's no fallout in the latest consumer confidence survey, at least not yet. Tomorrow's income news will tell us if that's just a head fake.
Note: Due to a technical glitch on the Labor Department's web site, the chart above wasn't initially published with this post.